How to Log in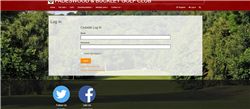 To register as a member click Register in the top right corner of the Home Page.

You will be prompted to verify your membership of the Club. If you are already registered on Howdidido, please use the same email address and password to register for the site. If you are not on Howdidido, the email address you register with must match what the club has on record for you. You will be asked to verify the 1st line of your address.You will be sent an email to confirm the validity of your email address. Once you have registered you will be able to login.

Have a look at some of the features on the new look website-

Click on each of the holes on The Course page. Here you'll see statistics of how each hole has played in competitions. You can also see Tony Davies's comments on each hole.

You can book on BRS and see competition results on Howdidido in the Members' area.

There's a full list of members. You can update your own privacy settings. This area is password protected and will only be seen by other members of P&B so if you are entering knockout competitions make sure you put contact details so that your opponent can get in touch with you.

On the member's hub you can see your own competition statistics. You can also link to Howdidido where you can enter competitions, print out a handicap certificate and much more.

There are links to Twitter and Facebook on the Home page.We hope you find this easy to complete but please contact the Club in the event you do any problems.