Welcome to the Ladies' Section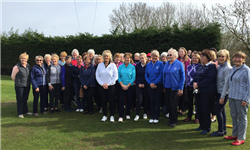 Looking for more from your leisure time and the opportunity to make new friends or simply seeking a great way to enjoy fresh air and exercise? You can get all that and more here at Padeswood & Buckley.
We will help you settle in, introduce you to other members and take you around the course. If you do not have a handicap we can explain what you need to do and help you get one.
With competitions on Wednesdays and at weekends there is usually something on each week but there is always time for non-competition or social games. There is an online booking system so you can choose the time you want to play from the comfort of your armchair or book in the clubhouse or ring the Professional. There are also mixed competitions throughout the year as well as matches against our Senior men which are always great fun.
Our Professionals Tony and Mark have an excellent reputation as coaches and can offer tuition on the practice ground, on the course and at the Bannel Golf range so every aspect of your game can be covered.
With a very active social side to the Club there is plenty of non-golf activities including Dinner Dances, Quizzes, Themed Evenings, Easter and Christmas bingo as well as our annual Murder Mystery night featuring our 'Padeswood & Buckley' players – a night not to be missed.

Ladies' competitions and other events are listed on our website's Diary page.
New2Golf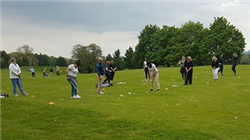 Golf is a game that can be enjoyed by everyone and can be adapted according to your ability.
This scheme is available to all beginner and lapsed golfers wanting to take up the sport.
Padeswood & Buckley Golf Club run annual Wales Golf schemes and offer fun, friendly group opportunities for you to try golf and to learn to play. These consist of free taster sessions, low cost lessons and trial memberships.


For further details please contact Lesley Francis (07707 303 515)