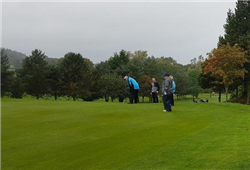 Padeswood and Buckley Golf Club has a strong history of playing mixed competitions. The oldest trophy is the Mixed Foursomes Trophy which was first played for in 1934.
Presently, we have a thriving mixed section that play right through the golfing season. Any full member is eligible to play in the mixed competitions that can be found in the annual diary.
The social mixed competitions are held to help introduce people into the game and to have fun. e.g. Christmas Mixed, Captain's Day Mixed. There are also many more serious mixed competitions held throughout the year that use different formats. e.g. Texas scramble, greensomes, 4 ball better ball and foursomes.
Playing in the mixed competitions gives you an opportunity to mix and meet with other members and presents you with a different golf challenge. Most of the mixed events require you to choose your own partner but there are also some competitions which require a draw for partners. Just sign up on the club system.
We always welcome new members who may have an interest in playing mixed competitions.
The chairman of the Mixed Section is Phil Woodhall. Contact him for more information.