Chase the Joker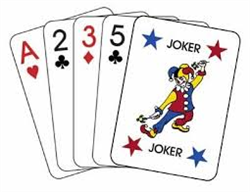 Chase the Joker is a weekly draw taking place on Friday evenings. You are invited to guess which envelope contains "The Joker". You could win £50 (or £100 on the last Friday of each month.) plus the rollover "Joker Jackpot". Before each draw there will be a roll-up golf competition open to all members, so why not come down on a Friday for some golf and a chance to win a big prize?
** Launch postponed due to social gathering restrictions**


How Does It Work?
The "Chase the Joker" board is to be found in the bar.
53 Red or Green envelopes will be attached to the board.
Each envelope will be numbered 1-53.
One of the coloured envelopes will contain the "Joker" card.
The remaining 52 envelopes will contain the normal playing cards.

How do I enter?
Take one of the supplied "Entry Manilla Envelopes."
Place your £2 stake money inside and seal it.
On the outside of the envelope write your name, contact details and the number of the coloured envelope that you think contains "The Joker" card.
Post your envelope in the secure post box at the end of the bar.

The Draw.
The draw will be carried out each Friday between 6.00 and 7.00 p.m. by a member of the Marketing Committee and 2 volunteer members.
One "entry envelope" will be randomly drawn from the secure box.
The person's name on that envelope will automatically win the £50 or £100 weekly draw prize.
Envelopes with the incorrect amount of money or coinage will be deemed invalid and another envelope drawn out.

After the Draw!
After the draw has taken place, the coloured envelope in the secure glass cabinet with the corresponding number as that of the drawn envelope will be opened and the card inside displayed.
If this envelope contains "The Joker" card the weekly winner will also win the "Joker Jackpot".
(This is initially set at £200 for the first month of each draw and will incrementally increase by £50 per week.)
If the card inside the coloured envelope is not "The Joker" card this card and the numbered coloured envelope will be returned to the cabinet (This number is now not available for the ensuing draws.)
Once the Joker card has been chased down a new set of 53 cards in different coloured envelopes will be displayed in the cabinet and a new game to chase another Joker will commence.

Who can play?
"Chase the Joker" can be played by anyone - members, non-members or visitors to the club.
You must be over the age of 16. Envelopes with children's names on them will be deemed void.
You can enter as many times as you wish but each entry must be in a separate envelope.