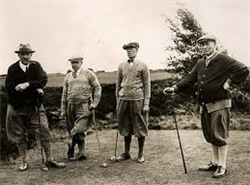 All male members of the Club who are over 55 are eligible to participate in the Senior Section. You don't have to join; you just have to be old enough. During the main season we have home and away matches (23 in total) against 12 other clubs as well as reciprocal visits to other clubs. There is also a seniors' away day towards the end of the season.
The Club runs a monthly medal for seniors (Pandora) which culminates in a Knockout Final for the Pandora Trophy. In addition we organise our own competitions throughout the year. With the exception of the Pandora, all our competitions are played off the yellow tees.
There are also two matches a year against the Ladies Section followed by a meal- always great fun.
Seniors competitions are held on either Tuesdays or Thursdays. If there are no competitions scheduled just turn up on the first tee for informal golf. The early birds go out from 7.30am – 8.30am and others around 9.00am. It is all very friendly but you might find yourself battling for a £1. So just turn up, the earlier the better, and join in. It is a great way to meet other members. You don't have to be a senior to come along, all are welcome..